If you load this Slideshow (not active) from ApPageBuilder module, please access ApPageBuilder module then delete it
ABOUT US
Bravo Snorkel is the result of collaboration between a group of stakeholders with a proven track record in the off-road sector dating back to the early 80s.
Over the last decade, we have specialised in the manufacture of pre-filters for off-road vehicles, constantly evolving to meet emerging market needs and offering a product of a standard that surpasses expectations.

Ours has been a path of uninterrupted growth, in terms of both production and distribution. We target the entire European market with a constantly evolving product range that has made us the leading company in the sector.

We are currently in the middle of a phase of international expansion as we export our products to all five continents by air, sea and land.
Located in the Pyrenees since its creation, the company has undergone strong growth in terms of both size and capacity, with a highly committed and specialised team that pays attention to every single detail and has led us to where we are today.

EXPERIENCE
Our extensive experience over many years has led us to organise our company into three departments, which together manage the processes involved from the start of a new project until the customer receives the product at their facilities.

RD&I:our team of engineers and industrial designers is dedicated to the creation of innovative solutions and designs for our snorkels, constantly developing new kits for the leading vehicles on the market.

Manufacturing :the manufacturing processes and materials of each component of our kits meet the most stringent demands and requirements of current technology for the crafting of a high-performance product.

Logistics: we provide an optimal service thanks to the strategic location of our logistics base, situated close to Barcelona for export by sea and air, and just two kilometres from the E15 European highway for deliveries by road.
RD&I
Analysis of vehicles and new developments in the market.
3D scanning of bodywork and essential elements.
Design sketches and kit conceptualisation.
Analysis of regulations for future certifications.
Product development based on 3D technology.
Verification of flows, sections and connections.
Part prototypes produced through 3D printing (SLS and SLA).
Installation check and adjustment of components.
Project validation by the production department.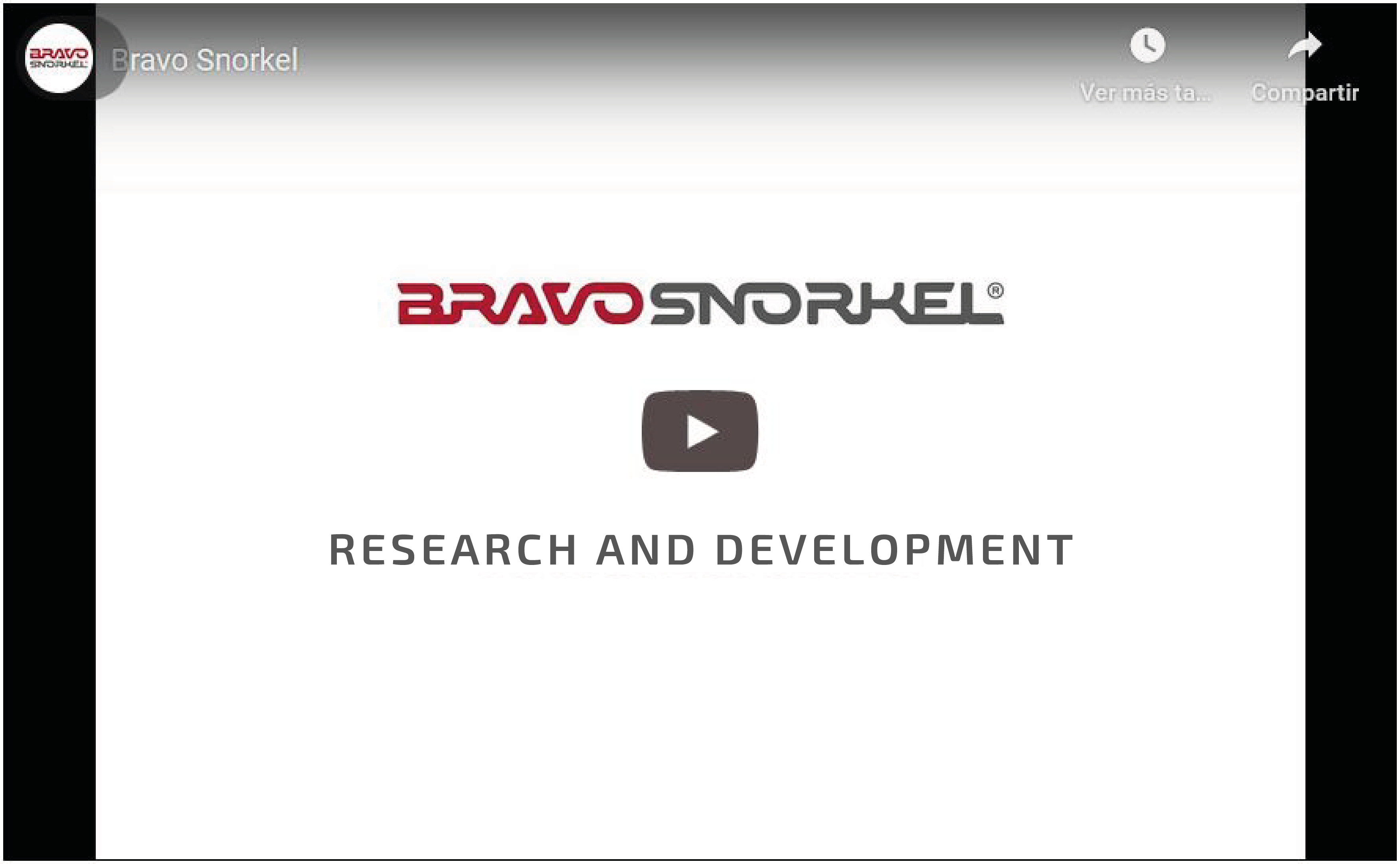 MANUFACTURING
Selection of high-quality materials.
Grinding and dyeing of LLD polyethylene.
Production of manufacturing tools and moulds.
Heat fusion of polyethylene in high-temperature furnace.
Manufacture through rotational moulding technology.
Cooling and unmoulding of the part.
Treatment, finishing and quality control.
Packing and packaging of the kit pieces.
Warehousing of the end product for distribution.
Logistics
Centralised management of product stocks in Spain.
Preparation of quotes and transport configurations.
Preparation of orders for transport by road in Europe.
Processing of exports for urgent delivery by air.
Handling of LCL groupage for delivery of exports by sea and air./li>
Handling of customs and country-specific paperwork.
Tracking of shipments for delivery updates.
Validation of deliveries and closure of online order status.