Certificates and Approvals
In accordance with European vehicle regulations (Directive 2007/46/EC of the European Parliament and of the Council of 5 September 2007), the modification, replacement, addition or dismantling of a vehicle component may entail the need to obtain official approval.
Our snorkels include a manufacturer's certificate guaranteeing compliance with EC legislation, along with an additional certificate issued by an authorised external engineering company.
1. BRAVO SNORKEL CERTIFICATE
● Manufacturer's details
● List of EC directives
● Material specifications
● Identification details
2. REINVAC ENGINEERING CERTIFICATE
● Verification of our range
● Specific certification for each model and reference
● Confirmation of compliance with EC directives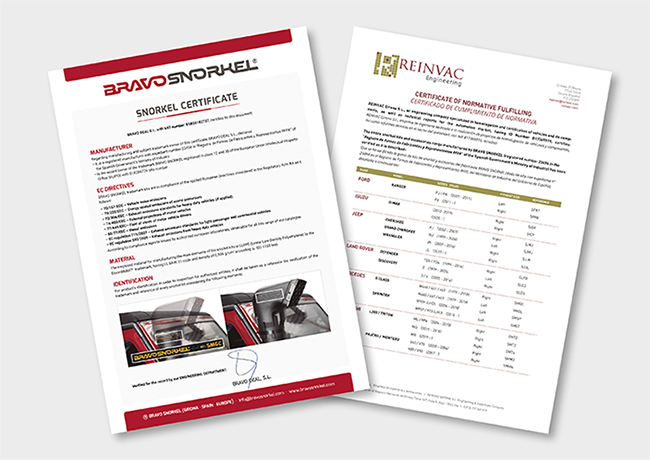 APPROVALS
In some countries you may need to complete official paperwork to get your snorkel approved. You the customer are responsible for finding out about the applicable regulations in your region or country through the official channels.
How does it work in Spain?
In Spain, vehicle alterations are regulated by Royal Decree 866/2010, of 2 July, which stipulates that any alteration made to a vehicle must be approved and listed in its technical sheet in order to avoid fines by the police or problems with the insurance company in the event of an accident, and in order for the vehicle to be able to pass its MOT. For this purpose, BRAVO SNORKEL works in partnership with REINVAC ENGINEERING, a company with a proven track record in the approval of vehicle alterations.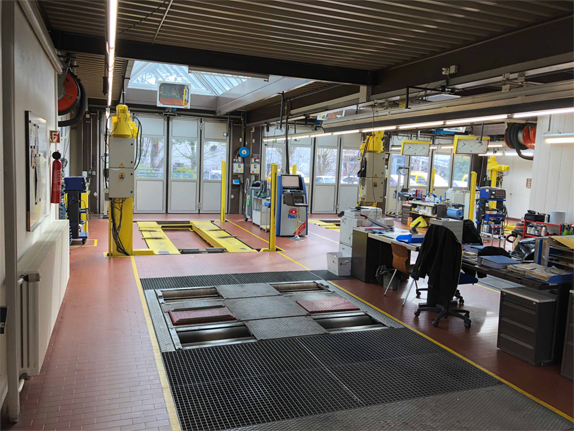 Other countries
In most other countries around the world, no kind of approval is necessary in order to fit a snorkel, provided that it doesn't impede the air flow to the intake and that there are no sharp edges in its design. Given that it's an accessory that improves the efficiency and performance of vehicles, MOT centres do not require any paperwork to be completed.

However, in the case of Europe, in accordance with EC directives, it is frequently necessary to obtain approval, which means that the Bravo Snorkel and Reinvac Engineering certificates will be necessary. You may also be required to complete additional paperwork, which will be your responsibility. Furthermore, you may need the report on the ExxonMobil LLDPE 8446.21 material, which can be downloaded here exclusively for approval procedures: